Paramjit Oberoi
Paramjit Oberoi

A Little about Paramjit
Paramjit co-delivers key elements of the face to face Simply Changing Diploma in Coaching, and plays an integral role in the supervision and assessment process.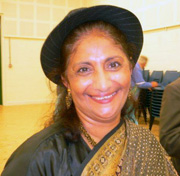 When you meet Paramjit you will find an enthusiastic, experienced, creative, emotionally intelligent, self-motivated, professional woman with whom you develop an instant rapport and connection at a deep level. She is an effective communicator with well developed interpersonal skills and a commitment to bringing out the best in everyone she meets.
Paramjit is a woman of Punjabi heritage. She was born in Patiala in India and came to the United Kingdom when she was six months old. That is now over half a century ago. Over the past 35 years Paramjit has had the privilege and a proven record of achievement of working with people in the public, private and voluntary sector. She has extensive experience of coaching, managing teams, project working, facilitating groups, developing and sustaining partnerships, training and consultancy.
Beliefs, Attitudes and Values in the Coaching World
Hi from Paramjit. Here are some of my beliefs, attitudes and values that continue to be fundamental to my working practice: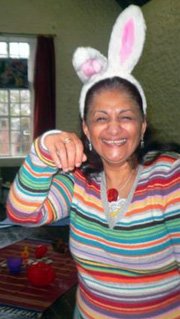 Respecting and valuing people
Taking a non-judgmental approach
Adopting an empowering approach to building on people's strengths
My core belief is that there is a huge and sometimes untapped potential and personal power in each of us and when people are truly listened to the true potential can truly flow and grow! I am aware of the power of the imagination and tapping into individual creativity as a process of bringing about change and developing our emotional intelligence. I am a firm believer in creative coaching methods found in the Arts in therapy healing, and, as an experienced Coach I use many approaches including: storytelling, scenarios, creative writing, role-plays, improvisation and drama. It has been my privilege to have coached and worked in creative ways with a variety of groups of people from grass roots workers, Asian elders, young people, older people right through to Chief Executives and local authority councillors.
Some of the work has included:
Simply Changing Diploma in Performance Coaching -co facilitating with Louise, the founder of Simply Changing
Derby City Council - delivering their Diploma Coaching at Work programme
Derbyshire County Council - Community Relations Officer Derby Council for Racial Equality
Coaching and Mentoring Courses for Asian Young Women
University of Derby - Lecturing on the Foundation Degree in Community and Regeneration, Post Graduate Certificate in Coaching
Nottingham Common Purpose – Program Director
Nottingham City Council - Team Manager community and youth workers
Humberside Probation Services – Coach/trainer/facilitator role
Nottinghamshire Police – Coach/trainer/facilitator role
Worcestershire Council for Racial Equality - Coach/trainer/facilitator role
Staffordshire social services - Coach/trainer/facilitator role
A little bit more…
On a personal note I am a mother of three children and in the last year I have been promoted to the position of becoming a grandma. My beautiful daughter has given birth to wonderful baby boy. I am so full of gratitude. What a miracle a new born baby is. As Albert Einstein said;
"There are only two ways to live your life. One is as though nothing is a miracle; the other is as though everything is a miracle."
After my husband passed on 7 years ago my wonderful addition to the family has brought me sheer joy. I am so full of gratitude. My grandson is not only the love of my life but is my greatest teacher. I can spend hours observing his behaviors of innocence, fearlessness, trusting, confidence, curiosity, giving and receiving unconditional love. This began to help me to make links with the coaching process.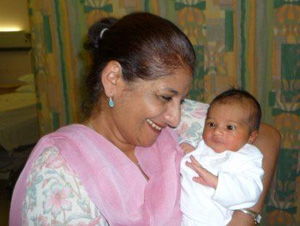 If we want to know what a baby, an adult or, indeed, any animal feels or thinks, we have to engage with them, allowing ourselves to feel the sympathetic response that the other's actions and feelings invite. If we didn't engage with infants, they wouldn't learn very much at all about us, just as we wouldn't learn very much about them. We draw their knowledge into existence and they draw out ours.
My personal challenges and changes have been around issues of fear and guilt. I am grateful that I have had the opportunity of working with Louise over the last few years and more recently with simply changing. On this journey of life I am working towards being an authentic human being every day in which I can give and receive on a real human level. I look forward to spending time with you and sharing and learning.
Paramjit x