Louise Trevatt
Louise Trevatt
Founder of SimplyChanging
University of Derby
MA Coaching Development
University of Sunderland
Diploma in Management Studies (DMS)
Institute of Personnel and Development (IPD)
Diploma in Training Management (IPD)
Society of Neuro Linguistic Programming (Richard Bandler)
Licensed Training Specialist NLP Society of Neuro Linguistic Programming (Richard Bandler)
Licensed Practitioner of NLP
Master Practitioner of NLP
Master Coach of NLP
Master Practitioner of Timeline Therapy® Training
Master Hypnotherapist
EAGALA Part I and II (Equine Assisted Growth and Learning)
EFT Levels 1 and 2 (AAMET)
The Simply Changing Story!
A big welcome to Simply Changing! When I set up Simply Changing in early 2007 we ran Coaching workshops in Derbyshire and Lancashire. We received really positive feedback about the benefit of bringing together groups of like-minded, interested and caring people together.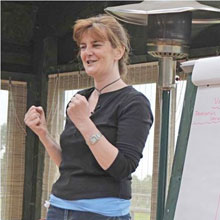 Now, several years on, Simply Changing is reaching out to the global market (whilst still running our monthly workshops) offering fabulous coaching techniques and insights into how to give the gift of coaching and live the best life possible, through our online and face to face Coaching Diploma, and NLP courses.
At Simply Changing we are a team of switched on individuals who know and understand about people-potential and how to reach it. Simply Changing is all about the enormity of people-potential and our team of expert coaches work with individuals and businesses enabling them to reach their goals and get fulfillment from daily life. What could be more fulfilling than that!
We have fabulous tools and techniques to share with you so that you can reach your potential. You are in safe hands with us and I truly hope that you find value in what we have to offer.
MY STORY
Coaching I have been involved in the Coaching arena for the last twenty years and can truly say that for me there is no greater profession, which is why I was so motivated to start Simply Changing as a business that can reach out, in an affordable way, to individuals in all walks of life.
Coaching can bring tremendously powerful and yet easy to access techniques for everyone. I'm sure that those of you who have had a qualified coach working with you will agree about the tremendous difference coaching can make with confidence, motivation, fulfillment and having fun in life!
Another great thing about Simply Changing is that we have our feet firmly planted on the ground so that you can soar like an eagle.
Throughout my career I have specialised in the field of leadership, management and personal development working at the cutting edge of coaching, which includes founding one of the leading commercial Post Graduate Certificate programmes in the UK.
A LITTLE BIT OF BUSINESS
One of my 'business' passions is working with small business owners to transform their ideas into reality. I have had the privilege of working with many people in setting up and shaping their businesses.
I love working with people who want to transform their own passion into a successful business. I currently hold a directorship in an engineering business too. Life is full and life offers us so much!
HOME LIFE
My favourite place in the world is Scotland! Whenever I drive to Scotland with a friend or family member we always play the game 'who was first'. In the car we push our feet to the front to be the first person in Scotland!
Scotland to me means great big skies, trees reflected on tranquil lochs, exciting seas and tiny coves. It gives me space to think and to breathe in the beautiful fresh air.
I love sitting and watching the dolphins in the Morray Firth, and taking long walks through the mountains and valleys of central Scotland. I love watching the gorgeous orange sunsets on the west coast and playing on the golden sands of the inner Hebridean islands. Scotland is a magical land filled with history and nature.
Animals are a huge part of my life, especially horses and my dogs. One of my dogs is so old she sleeps all day, one so young she plays all day and the one in the middle has the balance just right! I consider myself so lucky to have constant fun and laughter in my home.
I have found life to be full of contradictions. Contradictions are extreme changes and I see change to be a really positive thing, which is why I guess I love contradictions! Change produces energy, emotion and space to grow.
Here are some of my favourite contradictions:
I love dark art and big light spaces with windows on a fabulous view.
I love healthy food and tons of chocolate
I love peace and quiet and loud punk rock
I love old steam trains and new fast cars
I have my feet firmly on the ground and I love flying too
I like well behaved dogs and the mischief they can cause as well!
ONE OF MY CHANGES
"When I was a teenager I had zero confidence. I was an under-achiever and left school at age 15 with very little to show for my education.
I soon found that I loved working and grasped the principles of business quickly. I began the process of working to develop myself, finding my own ways of feeling confident and maintaining my confidence. I developed lots of my own techniques naturally and later found that these were very similar to those used in areas such as NLP, NAC etc.
Since these early days I have studied and worked hard. My aim has always been to enable people to recognise what they can achieve and find their way of making it happen".
Email mary@simplychanging.co.uk
If you want to know more about me click here for some additional information.