NLP Training
NLP (Neuro Linguist Programming)
Become confident & skilled in NLP
We are a leading provider in Coaching with NLP and our CPD programmes will enable you to understand and apply NLP with confidence and skill.
Our NLP programmes are Professional Development Courses. Endorsed under the Quality Licence Scheme (part of Skills and Education Group) and professionally accredited by the National Council of Psychotherapists (NCP)
Accessible
Based upon practical application of skills
Easy to learn
Well supported
Dynamic and energetic
Learner focused
Structured around application of learning
Our Highly Effective Style of Training
Our style of training is highly successful and therefore highly effective and this has been recognised by the NCP, something we here at Simply Changing are really proud of.
The Simply Changing Professional Development Course - NLP Practitioner Certificate and NLP Master Practitioner Certificate is:
Endorsed under the Quality Licence Scheme, part of the Skills and Education Group
NCP (National Council of Psychotherapists)
ICP (International Council of Psychotherapists)
Giving you endorsed and professional accreditation and your clients peace of mind.
We make sure that you as the learner have a great learning experience. Not only are our programmes informative, they are also fun and hugely interesting. They allow you to develop and embed NLP as a your skill set and our approach to your learning is built upon many years of successfully training highly effective coaches.
NLP Practitioner Certificate - Content
NLP Therapy Model
NLP Communication Model
Present to desired state model
Perception and Reality
Prime Directives
The Pillars of NLP
RAS
Representational System
NLP Presuppositions
Eye Accessing Cues
Association and Dissociation
Using sub modalities
TOTE
NLP Communications Model
Anchoring
Perceptual Positions
Well Formed outcomes
Meta Programmes
State management
Congruency and incongruence
Rapport Building,
Chunking – and the hierarchy of ideas
Reframing
Developing Strategies
Time lines
Stacking, Chaining and Collapsing Anchors
Chunking
Swish Pattern
Phobia Cure
Like to Dislike
Parts integration
NLP Master Practitioner Certificate - Content
NLP and Neurology
Sleight of Mouth
Quantum Linguistics
Values and Beliefs
Nested Loops
Complex Meta Programmes
Hierarchy of Ideas
Modelling
Gestalt in Emotions
Ideo-motor Signals
Hypnosis
Cartesian Co-ordinates
How we deliver our programmes
We run our programmes through webinars - these are real time sessions
You apply your learning with volunteer clients
We have weekly webinars – giving us time to apply our learning
There is the usual high quality online materials with video footage (as with the coaching programme)
You produce evidence of your practical skills
All webinars will be recorded as usual so you can listen again at any time
Please contact mary@simplychanging.co.uk for an enrolment form
How NLP is Important to me
NLP has quite simply changed my life. I've been practicing NLP for nearly 30 years now and teaching it for over 18 years and it has enabled me to manage all things in my life, both big and small.
NLP is a life skill. Along with coaching, it should be taught in schools as a key part of the curriculum to enable people to develop resourceful ways of thinking. As a society we place limits on what people can do. NLP allows us all to be responsible for how we 'affect' others by our language, our expectations and our behaviour.
Whatever you want to achieve you can, including:
Removing phobias from your life
Transforming relationships
Managing your business more effecitvely
Doing more with your time
Making a positive impact on society
Eradicating negative emotions
Aligning values and beliefs
Don't just take my word for it! Let's hear from Susie about her experience of the Simply Changing NLP Practitioner Certificate
Susie works in the employability sector and is already utilising her NLP skills there, not just with her clients but with her team too. One of the NLP strategies she loved was 'like to dislike' and she successfully used this to overcome her craving of crisps. She's shared that strategy successfully with a work colleague too. You see NLP can be interesting, diverse and fun too! Well done Susie!!
If you fancy a bit of a giggle, here's another video testimonial with outtakes!!
So, what is NLP?
I believe the best way of describing it, is to share with you that NLP is really about gathering 'excellent behaviour'. Noticing what others do brilliantly and then applying that to ourselves so that we can do things brilliantly too. Our NLP Practitioner Certificate will enable you to do just that!
Here at Simply Changing, we decide where we are in our lives currently and where we want to get to.
Enhancing our thoughts means that we get rid of anything that holds us back, you know the nagging doubts, the fear of failure, all those things that get in the way of being who we can be. Through NLP they simply disappear and the energy behind them becomes focused on what we 'do' want to have in our lives.
Our Philosophy of NLP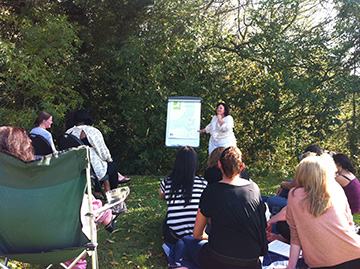 How are we different? We focus on ensuring that you understand what you are doing with NLP. We present the course content in a way which makes it really easy for you to understand and apply.

In our process of training you will understand what's happening and be able to understand how NLP works.
This means you achieve a positive outcome too!
Here's what Lydia said about her experience on our programme
"The pace and structure is a good mix of theory, demonstrations and practical exercises. Keeping all participants safe is a priority of Simply Changing. You are held in positive regard by all facilitators which allows you to be who you really are and explore that."
Come and join us spread this amazing approach with the world .
Louise xx
NLP Practitioner Certificate