16th January 2014
RELEASING YOUR INNER POTENTIAL – TAKING INSPIRATION FROM A GOOD FRIEND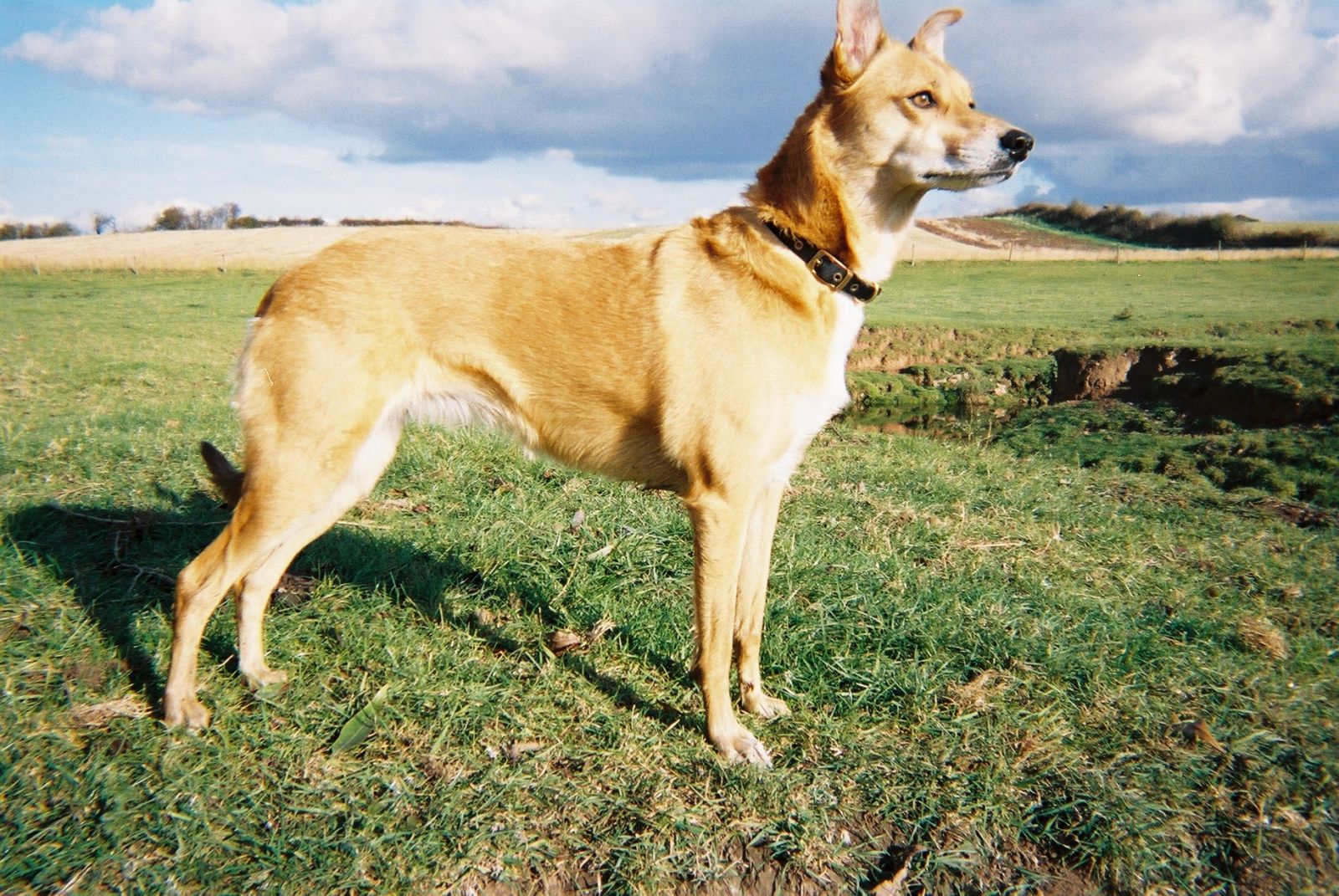 A New Year came and took away my best friend. As I write this tribute to the wonderful Indie, my gorgeous friend, my 'golden girl' of 15 years I am reminded of just how possible it is to change when we are given the support that we need.
Indie's story is truly amazing and it is wonderful that she reached the ripe old age of 15 because she suffered with a long illness and bore that with dignity and courage.
So who was Indie?
Indie was 9 months old when I saw her at my local RSPCA centre. She had been brought in as a 6 month old pup and had languished for 3 months being overlooked time and time again. It was no real surprise that she had been overlooked because the people who brought her in had essentially written her death sentence. This is what they said about her:
• Not good with children
• Hyperactive
• Easily excitable
• Not house trained
• Not good with other dogs
• Destructive
They finished her CV with another whopper. They said that she was a good traveller!!
I knew that I would be able to work with a challenging dog. I just knew that I could make a difference to her, and so the decision was made. One challenging dog coming home!!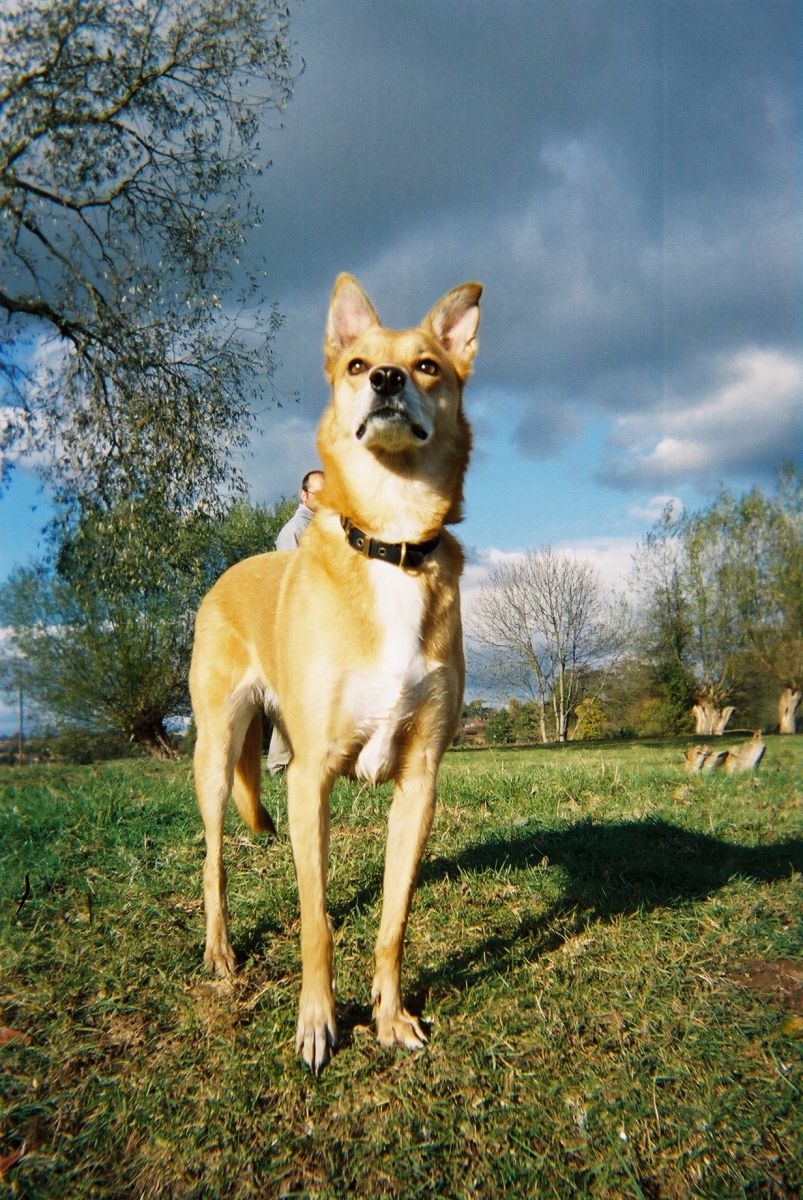 Before I could bring her home, the RSPCA had to do home checks and this took a couple of weeks, so I spent that time visiting her and walking her and getting to know her in the RSPCA play area.
I kept things really simple, remaining calm and consistent. I gave her the space she needed to do what she felt she needed to do. Little by little she became used to me being around.
She pulled terribly on the lead and I used some simple 'shaping', getting her to recognise the word 'stand' on the occasional time she stood still. That early piece of training was really deeply accepted by her and lasted a lifetime.
So, the 'challenging' dog was given the go ahead to join me at home. I asked a friend to drive us home and I sat in the back of the car whilst Indie almost clawed her way out. Hmmmmmm I thought, a good traveller??? She certainly wasn't that.
Changing the environment to allow for change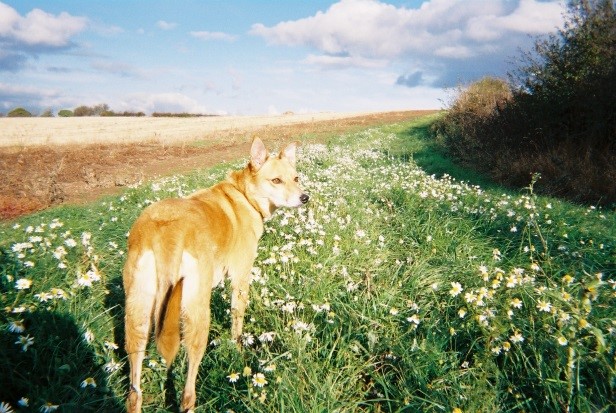 I prepared for months of damage to the house, the car, and my nerves!!! How wrong could I have been??
One of the things that Indie taught me was that when we create the 'right' environment that meets the needs of the individual, then we respond positively. Letting go of deep routed un-resourceful behaviours creates the opportunity for new responses. In this case with the wonderful Indie, that included providing great exercise, space to express herself, shaping good behaviour and ignoring unwanted behaviours. When these were set in place things changed really quickly.
Indie's new life began in earnest the moment we arrived at home. I set about 'walking this dog off her feet'. We walked everywhere for hours each day, experiencing new things all the time. Ducks, geese, fields, lakes, all of these were shocking and astonishing to her. It was great fun seeing her reaction and watching as she made sense of all the new experiences.
In no time at all she was walking to heel. Brilliantly walking with slack in the lead. It happened by magic, really naturally, no need for any 'specific' training. She simply needed appropriate exercise and something to focus on and hey presto, she responded so well.
Right from the first day Indie was comfortable, she felt safe and as a result of that she was never ever destructive, she was never anxious of being alone.
Indie proved to be incredibly intelligent and athletic. She was the greatest footballer – well to be more accurate she was a brilliant goal keeper. Indie absolutely loved playing football, catching each ball with skill and precision, time after time. She would love nothing more than playing football with the family!!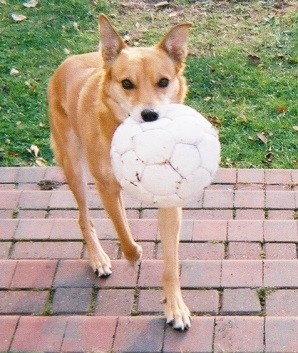 She was the fastest thing on 4 legs. I kid you not, she was amazing. I've never seen any dog run as fast. She would get really disappointed with all other dogs – she would tease them saying 'chase me chase me' but they had no chance of matching her speed!!
She was a bit of a chameleon, sometimes she looked like a fox, sometimes a corgi. She had the behaviours of a collie and the speed of a greyhound. She also smiled all the time and resembled a beautiful bottle-nosed dolphin
At the age of 7 she got very sick. It took 12 months to diagnose that she had Cushings disease. The symptoms of this disease are awful. She was very sick indeed, so at the age of 8, with a good diagnosis, she started her medication. She endured many invasive visits to the vet, without complaint.
Her illness brought some very special people into our lives.
Nicola Foster our Vet from www.glenthornevets.co.uk  is a natural born Coach, she supported me throughout Indie's illness and enabled me to get her care and specifically her medication 'just right'. Nicola helped me get the best quality of life for Indie throughout her illness. This was important and really added to her longevity of life.
Jane Keogh is an amazing Homeopathic Vet and through the majority of her illness she enabled us to balance Indie. We therefore managed to reduce Indie's conventional medication so alternative practices and conventional medical approaches working well hand in hand. Here's the link to Jane's profile. http://www.markelliott.co.uk/Mark_Elliott_and_Associates_Veterinary_Surgeons/Jane_Keogh.html
Jane introduced me to the idea of the Bowen Technique and this brought Dawn Smith into our lives. Bowen is an amazing technique and kept Indie supple and physically well balanced too. I was also treated by Dawn, she is a human and canine practitioner, and my lower back pain which I'd been managing for a couple of years completely disappeared. Here's the link to Dawn's profile http://www.naturaltherapypages.co.uk/therapist/dawnsmithholistictherapies/14017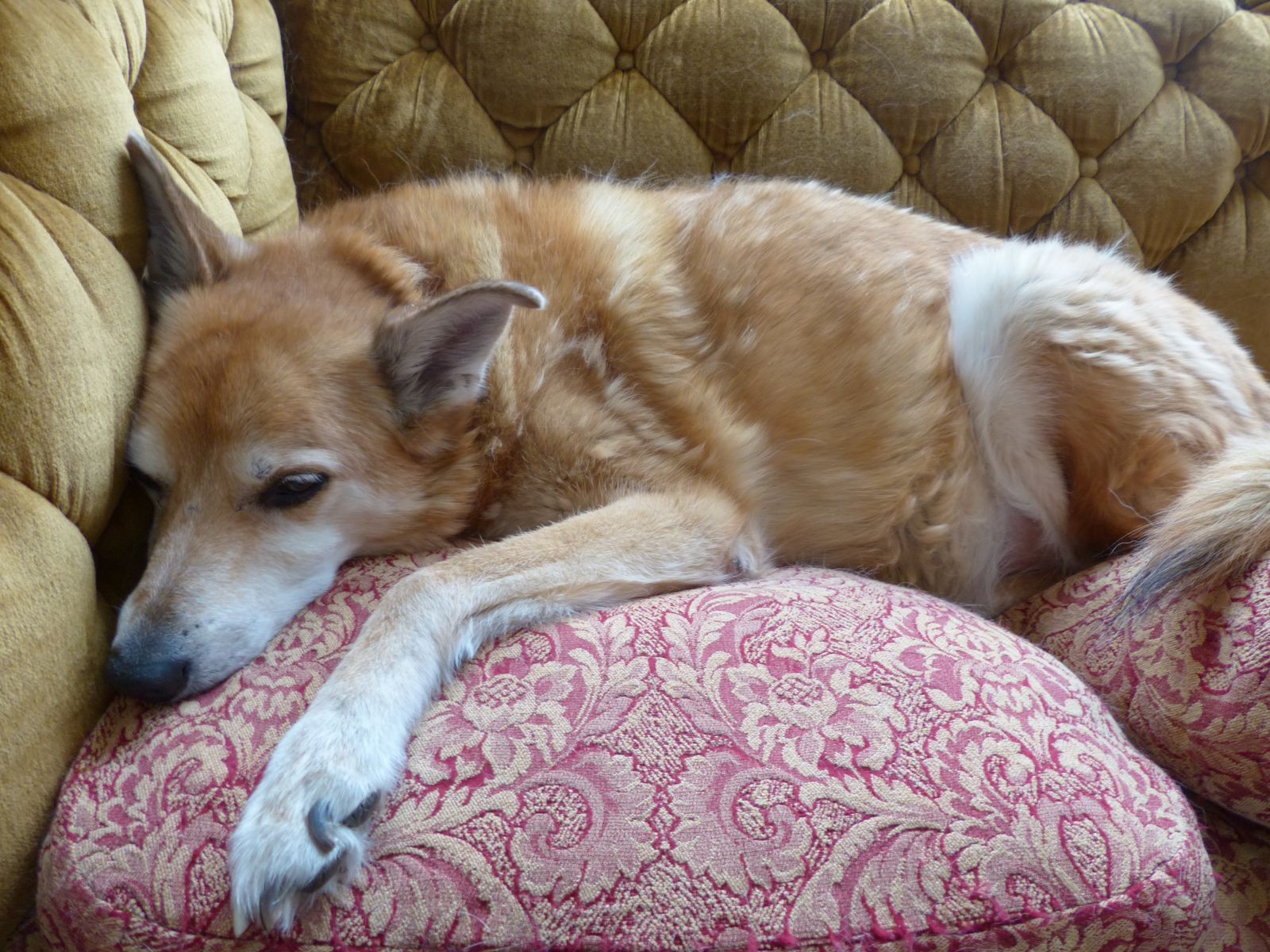 The photo above shows Indie as an older lady, she aged well. I believe that she faired so well because her environment was adapted to suit her needs. She had preferences and opinions and had the right to be heard. As she aged, she slept more, our walks got shorter and gently and gradually she aged gracefully.
Indie gave me the opportunity to change my behaviour to meet her needs. As she slowed then I matched her pace. As her health shifted and changed I responded by gathering information, making decisions which were informed and noticing their impact on her.
When we are free to be ourselves we are free to offer so much to others
Her authenticity allowed her true personality to blossom and this was one of her many gifts. She connected with people 'getting alongside them' so that even people who had a deep routed fear of dogs suddenly found themselves, smiling at her antics, reaching out to stroke her and then ultimately looking forward to seeing her. So many people say to me how she helped them to trust dogs and learn to enjoy being with them.
Ask a better question
Having a dog who is old before their time means the ageing process is long and protracted. I found that changing the questions I asked myself led to me feeling more, or less energised. When I asked myself – 'does she still have quality of life' it made me focus on the negative. When I asked 'what quality is Indie going to get out of today', I noticed what she could do, what she was interested in and how strong she was.
Reminding myself of this throughout her illness enabled me to adapt myself, change my expectations and accept her illness. This in turn enabled me to relax rather than be upset by what was happening to her.
Before she left us, she spent Christmas at the centre of the family, surrounded by the people she loves and those that love her. The New Year week was a gentle week and on her final day on this earth we sat together, I read to her and we spent a perfect morning together. She passed so peacefully and I can feel that she is truly at peace.
She takes with her my love and my gratitude. My golden girl, although gone in her physical form, her legacy is woven into who I am and what I do. I have learned much from Indie and applied that learning and I commit to pass that on.
One final thing to note - choosing Indie was the best decision I ever made
Louise x